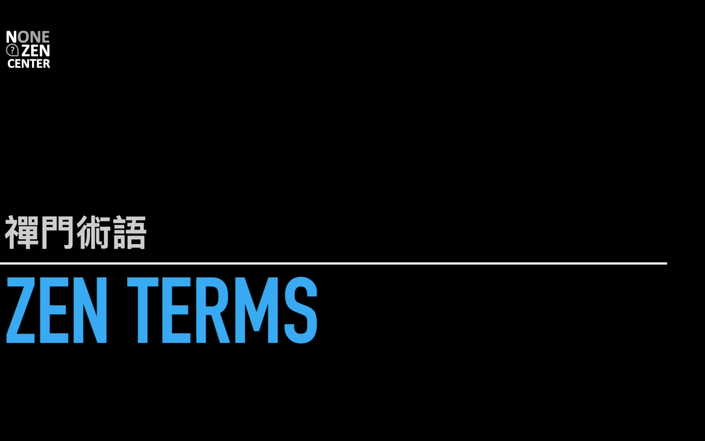 Zen Terms
Learn the common Zen language and Zen culture
Do you know the meaning of Zen Gimmicks, One-pointedness, or Sramana? Zen terms are terminologies commonly used in Zen teachings across the lineage divisions and throughout the entire Chinese Zen history. From generation to generation, they become the common languages of Chinese Zen tradition and form the foundation of Chinese Zen culture.
When leading Zen doctrine studies at the Advanced Class series, Shifu (Master) Linda and Shifu Jeremy explain Zen terms with their profound insight in plain language. We find these teachings helpful not only for our Zen intellectual understanding but also for keeping us on the right track of Zen practice. Therefore, we make Zen Terms an online course hoping that you can benefit from the teaching and work toward uncovering your self-nature.
We provide the rough-cut video version to keep and reflect Shifu Linda and Shifu Jeremy's teaching styles and will have new releases biweekly. We are sorry that we cannot afford to add closed captions, give a fine cut, and provide the edited videos right after Shifus gave the lessons due to the lack of resources.
None Zen Center is a US-based 501(c)3 non-profit organization providing tuition-free Zen courses and run entirely by donations. We sincerely ask for your giving to support a tuition-free Zen environment and help continually grow the Zen community. Please consider donating $5, $8, $12, or any generous amount monthly. Any one-time or recurring donations at greater or fewer amounts are deeply appreciated. When completing your donation, you will receive a prompt receipt from PayPal. We will provide you with an annual receipt between January 10 to February 20 for the gifts we receive from you the previous year due to the lack of resources. If you need to receive the receipts earlier, please email us at [email protected] We thank you for your love, care, and generosity for the Zen community.

Your Instructor
Linda Huang and Jeremy Wei are the founding Masters of None Zen Center. Both of them are Dharma Heirs of Zen Master Guoru (1951- ), making them the 59th generation Master of Linji (Jpn. Rinzai), 53rd generation Master of Caodong (Jpn. Soto), and 3rd generation Master of Dharma Drum lineages.
Course Curriculum
1. Gongan (Jpn. Koan) and Huatou
Available in days
days after you enroll
2. Zen Gimmicks
Available in days
days after you enroll
3. Enlightenment
Available in days
days after you enroll